Riding gear with airbags are one of the greatest safety innovations for motorcyclists ... (Wired.com)
The Airbag jacket is a new, innovative and vital technical safety garment. (Aprilia.com)
What is an airbag jacket and how does it work?
After the helmet, the airbag jacket is the most important safety innovation. Jackets are equipped with an airbag to protect motorcycle riders against injuries upon impact. Airbag jackets have two anchoring cables and a CO2 cartridge. One of these anchoring cables needs to be connected to the frame of the bike and remains there. In the event of an accident, when the rider falls off the bike the cable will separate from the bike activating the CO2 cartridge to instantly inflate the jacket in approximately 100 to 300 milliseconds. The jacket provides extra protection to the most vulnerable parts of the body (the spine, neck, ribs, collar-bone).
The airbag jacket is a Hungarian invention
The airbag jacket (and vest) for motorcyclists (horseriders and in recent times for skiers) is a long-standing Hungarian invention. It was officially registered in 1976, published in 1977. Inventor: Tamás Straub. You can look at the original documents of the invention here. Copies are available from the Hungarian Patent Office (Hungarian Intellectual Property Office) anytime.
Airbag jacket - crash-test
Inflation Never Seemed So Good: Motorcycle Airbag Review
September, 2015
We've grown accustomed to airbags in cars; the first patents were taken out way back in the 1950s, with production models arriving twenty years later. NASA have used them on spacecraft, bags cushioning the landing of Luna 9 in 1966 and of Mars Pathfinder in 1997. Although a motorbike airbag jacket was actually a Hungarian invention, with a patent registered in 1976, ... Read more
New Airbag System Approved For World Cup Racers
November, 2014
Starting next January World Cup racers will be able to wear inflatable airbags. It is a similar system used by motorbike racers that inflate in high-speed crashes and offer support to the head and neck.
The system has been developed by Italian manufacturer, Dainese, in coordination with the International Ski Federation, FIS. It has three accelerometers, three gyroscopes, a GPS, and onboard electronics that collect all the data and deploy the airbags before a racer crashes into the ground. Read more
Motorcycles Just Got a Lot Safer
October, 2014
Motorcyles can be dangerous. They're hard to control, difficult for other drivers to see, and crashes often put the rider's life in serious jeopardy. But that's part of the thrill – that exhilarating feeling as you're cruising at high speeds, only a jacket and helmet between you and the world. If only they could make riding a little safer
That's where motorcycle airbags come in. Italian companies Ducati and Dainese recently partnered to create D-Air, an integrated airbag jacket that senses collisions wirelessly and deploys within milliseconds – the first production motorcycle in history to have one. But believe it or not, airbag jackets have been around for much longer than that. It's not a new idea, by any means. Let's take a look at their history and how they got where they are today.
Rider-Based Airbags
Hungarian inventors actually brought us the first airbag jackets in 1976... Read more
Motorcycle air bags: The faster, the safer
July, 2013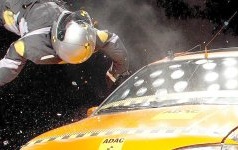 The ADAC tested two chest airbags that are integrated in vests.
They belong to the few items motorbike riders may wear to protect themselves during a crash: air bags integrated into vests. However, how well they protect the wearer depends on how quickly and dependably they open up during a collision. The ADAC recently tested two of the motorbike vests with integrated air bags that are currently available on the market ... Read more
Thousands of motorcyclist's lives could be saved ...
... every year if airbag jackets would be used all over the world.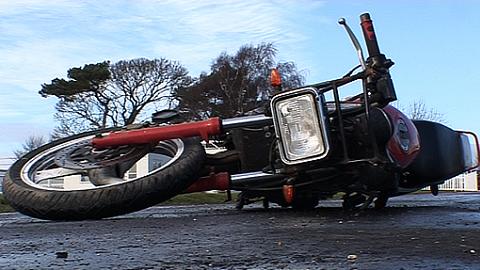 February, 2009
Dozens of motorcyclists' lives could be saved every year (only in UK) if air bag jackets were made compulsory, accident and emergency doctors have said. The jackets are the equivalent of car air bags and inflate if the rider is thrown off during a crash. In one version, the jacket is attached to the bike by a lead which detaches when the rider has come off suddenly. The Department of Transport said it had no plans for a new law but said it welcomed anything to improve safety... Read more
No comments ...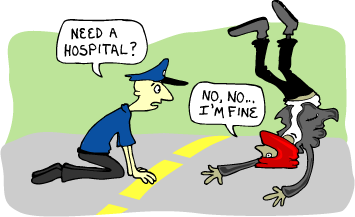 Why You Should Consider an Airbag Jacket?
A motorcycle rider, or even an individual that loves to frequently ride horses, is often faced with a dilemma. While on the one hand they adore riding their vehicle or steed, on the other it is a very dangerous pastime or primary means of transportation. In the past even a minor crash or hard landing could cause a major physical health issue. Severe injury and death were quite common from such an occurrence. However, with the advent of the creation of motorcycle airbag jacket technology safety for riders of motorcycles and horses has increased dramatically.
A motorcycle airbag jacket is a device that works via a lanyard and CO2 cartridges to create an incredibly fast inflatable cushion around the rider if they are jerked suddenly off of their vehicle or mount. These devices generally take around twenty-five to thirty pounds of force to deploy so they do not false deploy often. Consequently, leaping off of a stationary bike does actually provide enough force to deploy the airbag. This means that should someone fall sideways in the right manner or the bike somehow jerk out from under them because they weren't appropriately seated the airbag will most likely deploy and help them during the fall.
The motorcycle airbag jacket is not designed to be worn with anything else covering or attached to it. A backpack worn over the jacket might cause it to be unable to function properly, as an example. These types of motorcycle armor come in two general forms. These forms are vests and full leather. They are sometimes fashioned from synthetic materials but the leather armored jackets are the most common.
These devices function to protect the neck, spine, and major organs in the torso. When combined with a proper helmet they offer the greatest protection available to a rider. Most function swiftly and deploy within a half a second or less once the lanyard is pulled with sufficient force. The typical motorcycle airbag jacket will be re-inflatable. This means that after a thorough safety inspection the only thing necessary for it to function properly again if it is not damaged is another CO2 cartridge.
Anyone that is serious about riding safely will want to wear one of these types of safety gear. Due to how useful they are they might eventually become mandatory pieces of equipment in many parts of the world just like a properly approved helmet is.
Motorcycle airbag jackets are already in use ...
... by police departments in Brazil, Italy, France, Spain, Japan, Taiwan etc.